ANZBP Fact Sheet on Biosolids & PFAS
Dear ANZBP Members and Stakeholders,
The Australian and New Zealand Biosolids Partnership (ANZBP) is pleased to present its newly crafted ANZBP PFAS & Biosolids Factsheet. The intent of this factsheet is to provide interested parties with information about our understanding and management of per and polyfluoroalkylated substances (PFAS) in biosolids.
The factsheet explains:
What biosolids are and why they are important?
What are PFAS?
Why we are interested in PFAS in biosolids?
How PFAS are managed in biosolids and ANZBPs' position on PFAS in biosolids?

Request for Quote (RFQ): Survey and Report
25 Aug, 2023|
5pm AEST
The Australian Water Association (AWA) and the Australian and New Zealand Biosolids Partnership (ANZBP) commission a survey to identify the main features of biosolids management across Australia and New Zealand every two years.
AWA and ANZBP are seeking quotes from consultants to carry out the 2023 survey and report.
The closing date for RFQ submissions is 5pm on 25 August 2023.
If you would like a copy of the RFQ or any other information about the survey, please contact Kirsty Jones (AWA International and Industry Program Manager) via email kjones@awa.asn.au or on (02) 9467 8430.
Change in Leadership
Dear ANZBP Members and Stakeholders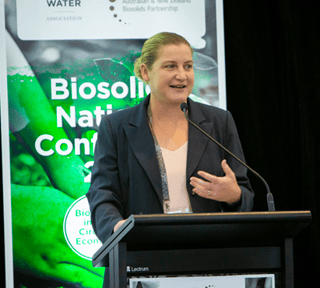 After several years of dedicated service, Kelly has made the decision to step down as the Chair of ANZBP. We express our heartfelt gratitude to Kelly for her unwavering commitment and invaluable contributions as Chair.
She has played a pivotal role in fostering the growth of our membership, spearheading initiatives such as the Lunch & Learns, driving the success of the National Biosolids Conference, and leading various other ANZBP projects.
While Kelly will no longer serve as Chair, we are pleased to announce that she will remain an active member of the committee in the role of Advisory Committee member. We look forward to continuing our collaboration with her in this capacity.
We are delighted to share that Rob Tinholt and Lauren Randall have both been nominated and elected as the new Chair and Vice-Chair of the ANZBP Advisory Committee respectively. The selection of the Chairperson and Vice-Chairperson was carried out through a nomination and voting process within the Advisory Committee.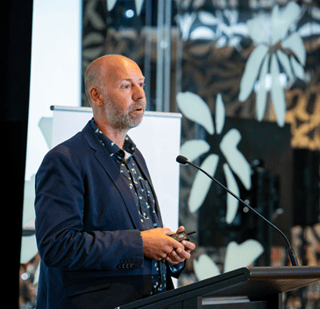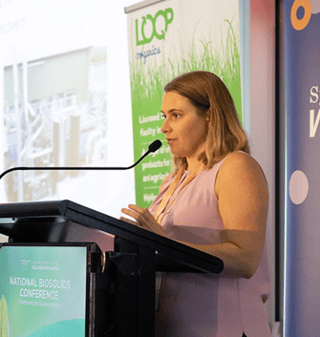 Please join us in congratulating Rob Tinholt on his appointment as the new Chair of ANZBP Advisory Committee, and Lauren Randall on her appointment as Vice-Chair. We have full confidence in their capabilities and look forward to their valuable contributions to leading ANZBP into the future.
We would also like to extend our appreciation to all members of the Advisory Committee for their continued dedication and commitment to ANZBP. Your contributions are vital to our collective success.
National Biosolids Conference Highlights
The National Biosolids Conference 2023 was a huge success with Australia-wide and international speakers. The biennial conference was held for the first time since 2019 on 8 & 9 February at Ariel, University of Technology Sydney, with the theme Champions for Sustainability.
International Keynote Speakers Dr Sally Brown and Rick Lancaster will be discussed globally relevant issues and solutions presenting The Role of Biosolids in Environmental Stewardship and A Global Perspective of Sustainable Bioresource Strategies – A Paradigm Shift in the Sector respectively.
Additionally, Panel Discussions with leading experts covered Biosolids beneficial use, risk management and regulation in practice, featuring panellists from state EPA's and Government Departments.
The Event Photo Gallery is now live on our official Flickr website
here
if you would like to take a look.
ANZBP's new member
We're delighted to announce a collaborative partnership between Australian & New Zealand Biosolids Partnership and ARC Training Centre for the Transformation of Australia's Biosolids Resource, to support sustainable biosolids management and advancing biosolids technology developments, to support the circular economy.
ARC Training Centre for the Transformation of Australia's Biosolids Resource is funded by the Australian Government through the Australian Research Council Industrial Transformation Research Program with the mission to transform Australia's biosolids resources, our vision and overarching goal is to deliver world-class and innovative technological solutions and knowledge, to train the next generation of biosolids practitioners in cutting-edge, transformational approaches, and to guide best practice in the biosolids sector.
Introducing our second international keynote
Introducing our second international keynote speaker: Rick Lancaster, Global Bioresources Director, Atkins 

Rick will present a keynote on his work: A Global Perspective of Sustainable Bioresources Strategies – A Paradigm Shift in the Sector.
He has over 33 years of experience working in the water sector, delivering international award-winning Bioresources strategy, holding senior operational leadership roles for Bioresources and Wastewater management and developing bioresources systems operator concepts.
Rick is accountable for delivering Bioresource and Resource Recovery strategies for Atkins clients across the world.
Rick Lancaster will speak on Day 2: Thursday, 9th February 2023
Introducing our first international keynote
Introducing our first keynote for the National Biosolids Conference: Dr Sally Brown, Research Associate Professor, Soil Amendments, University of Washington, USA.
Dr Sally Brown is focused on identifying resources in wastes—turning discards from homes into a tool for sustainability. She has worked on studies involving soil health, climate change mitigation, biosolids recycling and wastewater treatment. At the root of her work, she believes that soil amendments, in the form of residuals from different industries (composts, for example), offer the potential to help us to live in a more sustainable manner. Her goal is to turn cities green by making the use and re-use of waste part of our daily vocabulary. She has received a number of awards for her work, including the Rufus Chaney Research Award from the U.S. Composting Council, special recognition from the Environmental Protection Agency, and the Green Globe Award for outstanding achievement in environmental stewardship. She is a Fellow in the Soil Science Society of America and was a member of the National Academy of Science Committee on Soil Science. 
Dr Sally Brown speak on Day 1: Wednesday 8th February 2023
National Environmental Management Plan on PFAS
The Heads of EPAs of Australia and New Zealand (HEPA) have released the draft per- and poly-fluoroalkyl substances National Environmental Management Plan (PFAS NEMP) version 3.0 for public consultation. This version 3.0 contains important new guidance and standards, which builds on version 2.0 published in 2020.
You can now have your say on this plan.
ANZBP's chair was awarded the QLD Distinguished Service Award
Congratulations to Kelly Hopewell for winning the Distinguished Service Award at the Queensland Gala Dinner.
Kelly Hopewell is the Acting Executive Coordinator, Product Quality and Treatment at the City of Gold Coast. Kelly has been an active member of AWA for many years, having served on the Queensland Branch Committee and the Australian and New Zealand Biosolids Partnership, which she has Chaired since 2018. She is a regular contributor of conference papers, and in 2015, Kelly was awarded a Churchill Fellowship.
We're excited to share the ANZBP 2021/2022 Year in Review report.
The report provides insight into all that we achieved, including our: 
Biosolids Production and End-Use Survey
Quantitative Risk Assessment Biosolids Case Study
Lunch & Learn sessions
Webinar series
Ozwater presentation and Members Meeting
Advocacy and Communication 
Thank you for your support and assistance in making last year a successful one. We look forward to working with you to continue building on our strengths in the year ahead!
ANZBP NEW MEMBER 
RMCG has recently joined Australia & New Zealand Biosolids Partnership (ANZBP) as a new member.
RMCG is a multi-disciplinary consultancy specialising in environment, agriculture and communities. They provide advice to government agencies, water authorities, institutions and private sector clients in the fields of environment, water, agriculture, economics and communities. Managing the beneficial use of biosolids and other organic wastes requires skills and experience across a range of disciplines.
The mission of the Australian and New Zealand Biosolids Partnership is to support sustainable biosolids management.
If you are interested in joining ANZBP, click
here
Australia and New Zealand Biosolids Production and End-use survey 2021
In 2010, the Australian & New Zealand Biosolids Partnership (ANZBP) commissioned a national survey to identify the main features of biosolids management across Australia and New Zealand. The survey was repeated in 2013, 2015, 2017, 2019 and again in 2021.
Surveys to 2019, inclusive, catalogued and reported the following primary parameters:
• Biosolids production;
• Biosolids end use;
• Biosolids stabilisation grade;
• Biosolids contamination grade; (added in 2013)
• Biosolids primary stabilisation process;
• Biosolids dewatering process.
This year additional data has been collected to both update the survey in line with current and predicted trends and to obtain data that is anticipated to be useful to ANZBP members and government departments. These data are:
• Biosolids secondary stabilisation processes;
• End-use management and branding;
• Stockpile volumes;
• Transportation of biosolids to end-use site;
• Emerging contaminant management;
• Renewable energy production.
The final reports of the survey are now available for ANZBP members on the Member site of the ANZBP website. If you are an employee of ANZBP partners and need access to ANZBP resources and data, feel free to reach out to ANZBP Program manager.

Melbourne Water Biosolids Case Study – Quantitative Risk Assessment
Following the presentation on Quantitative Risk Assessment from Daryl Stevens (PhD) (Atura), Philip Wilkie (Melbourne Water), Nick O'Connor (Ecos Environmental Consulting) in ANZBP September Biosolids Lunch&Learn Webinar.
The Australian & New Zealand Biosolids Partnership has released a Case Study report: Biosolids Case Study – Quantitative Risk Assessment.
The QRA was developed by Melbourne Water with international peer-review from the Imperial College London. The QRA analyses potential pathways of chemicals/contaminants found within wastewater from the wastewater treatment process through to the end-use of biosolids. 
The QRA provides valuable data to Melbourne Water for biosolids land application.
Community Attitudes to Biosolids Survey – Public Report Released
The Australian & New Zealand Biosolids partnership, an industry program of the Australian Water Association, has released a public report based on a survey conducted by Newgate Research of over 1200 people in Australia and New Zealand.  
Survey topics in the publicly available report include awareness and understanding of biosolids as a by-product of wastewater treatment, and the most acceptable uses for these by-products according to community sentiment. The survey also tested the effect of information about biosolids on community attitudes. The full report available to ANZBP program subscribers contains detailed results of this part of the survey. 
Subscribers to the ANZBP program support industry-wide initiatives like the Community Attitudes to Biosolids Survey. For more information or to subscribe contact the ANZBP program manager. 
COVID-19 and Biosolids
The ANZBP Chair and Committee have synthesised available research material to develop a factsheet on COVID-19 and biosolids. 
Indications are that while the virus may be detectable in faeces in small quantities, if the virus was to arrive at a treatment plant in a viable state (which has not been demonstrated) it would be readily destroyed by the treatment methodologies already in place to manage other pathogens.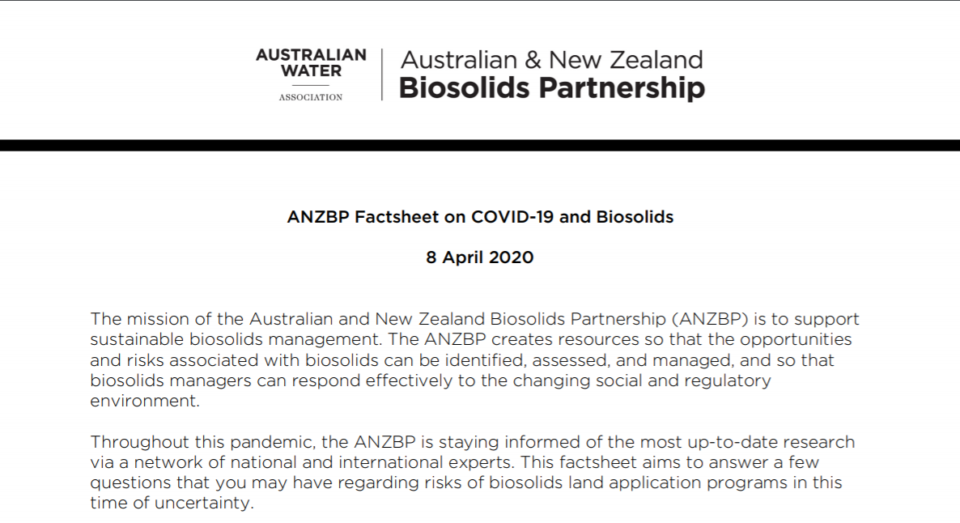 Biosolids and Microplastics
In light of international interest in the possibility of microplastics contamination of agricultural land and waterways via the application of biosolids, the ANZBP have been working on a preliminary assessment of the risk of this emerging contaminant in the Australian and New Zealand context.
We have made available a preliminary report and a factsheet on this topic. 
The ANZBP supports the reduction of plastic use in consumer products, particularly those that may end up in the sewer system such as clothing fabrics, and substitution of plastics in consumer products with sustainable alternatives.
About our Partnership
The Australian & New Zealand Biosolids Partnership (ANZBP) is a member based collaboration of utilities, consultants, academics and government bodies committed to the sustainable management of biosolids. Formed in 2007 as a self-funded program of the Australian Water Association, the ANZBP has over the years developed a diverse range of research products and tools to support the objectives of our members and to further the development of the sector as a whole. These materials are all available via this site, some available to all, others accessible by members only.
The ANZBP has developed this site to provide interested parties with factual information about biosolids, how they are produced, what is in them, how they might be used, their benefits and potential risks associated with their use. The ANZBP believes biosolids are a valuable product, and this website provides information that supports the application of biosolids to land and other appropriate uses.
If you are an Australian or New Zealand producer, processor, transporter or user of biosolids, or a consultant working in these areas, you can join the Partnership.


 MEMBERS

Our members' only site offers a rich and diverse array of research and support materials to partnership members, ranging from technical research on odour, carbon and chemical contaminants through to communication and media tools to support community engagement.

Our most recent publications include:
2020 Community Attitudes to Biosolids Survey
2020 Biosolids Production and Use 2009-2019 Data Consolidation Report
Biosolids Production and Use data 2018-2019
Assessment of Emergent Contaminants in Biosolids (Chemicals of Concern Report) 2017
Member access is available to all staff of our subscribing partners. Please check your eligibility here and contact us for access if you work for one of our partners.


PUBLIC

Our public resources are freely available to enable all stakeholders in biosolids production and use to gain more insight into the processes that create biosolids and ensure their safe use in our communities. These include: